360 Core Movement with KI-RO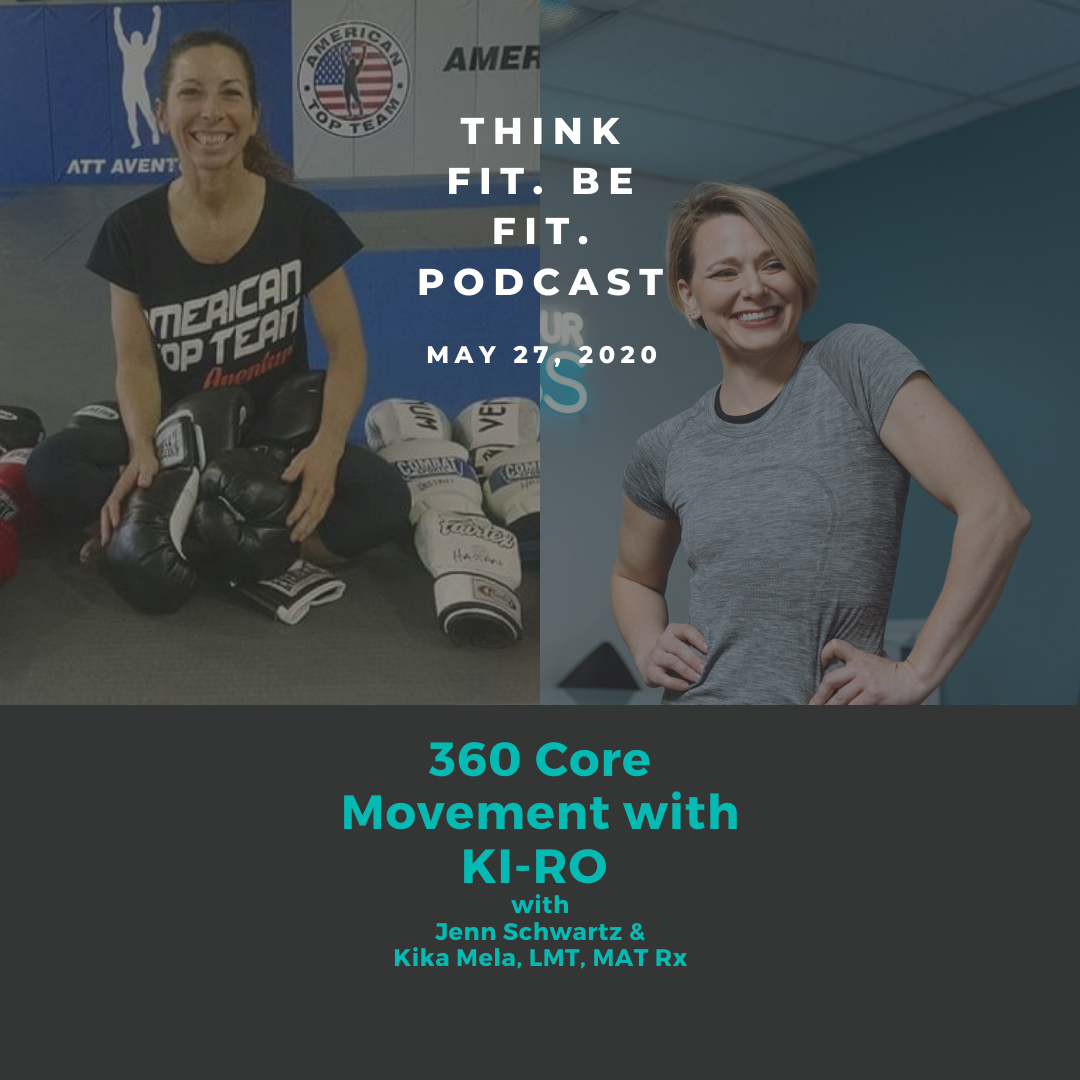 Throughout the month of May Think Fit. Be Fit. went on a deep dive of the core.  This is the 6th episode in that series.
Here's the summary of May's core-centric episodes:
All of these episodes are my attempt to think independently about exercise so that I can make the best decisions for myself, athletes and clients. There is a sad movement in fitness in which education is barely emphasized and the industry is full of time-wasting (and possibly dangerous)  fluff.  The final episode of May's core focused episodes is a conversation on challenging the body with a tool that can give us a spectrum of resistance around the body, the KI-RO Core Trainer.
Meet my esteemed colleague and friend, Kika Mela, Co-Owner of Mela Therapeutics, Inc. and the creator of the Ki-RO Core Trainer. She is a Master Level MAT Specialist, MAT Rx Specialist, and has been a Licensed Massage Therapist for 25 yrs. She has worked extensively with professional and elite athletes and is a contributor to the training process at Bommarito Performance Systems as part of their medical team.
Kika and I discuss a number of things related to athletic performance, muscles and movements, how her invention the KiRo helps address the flaws in training this part of the body.
Topics that we cover:
How the KI-RO was developed and how it helps Kika's clients who are almost exclusively professional athletes.
A discussion on a universal definition of 'the core'.
How athletes can benefit from this device
Exercises that are more precise than crunches or swinging our legs
How this part of the body is related to movement and athletic performance
Getting specific with exercises using the KI-RO Core Trainer
Pelvic motion and hamstrings in relation to the core.
Grab your device and your thinking cap as we get real and open - not only discussing issues we see in fitness, but offering safe but awesome solutions as well.
---
Links of interest:
https://www.melatherapeutics.com/page/page/6405961.htm
discount code for 15% off: TFBF15
https://www.instagram.com/kirocore/
Hamstring blog from KI-RO
https://www.kiroconcepts.com/post/tight-hamstrings-maybe-not
Silfies SP, Ebaugh D, Pontillo M, Butowicz CM. Critical review of the impact of core stability on upper extremity athletic injury and performance.  Braz J Phys Ther. 2015;19(5):360‐368. doi:10.1590/bjpt-rbf.2014.0108
https://www.ncbi.nlm.nih.gov/pmc/articles/PMC4647147/
Hamstring episodes from September 2019:
http://thinkfitbefit.libsyn.com/this-plagues-so-many-active-people-hamstrings-that-just-dont-quit
http://thinkfitbefit.libsyn.com/strengthen-your-hamstrings-like-a-pro
http://thinkfitbefit.libsyn.com/what-weak-hamstrings-really-need
Support the podcast by checking out Ruvi, a high performance drink that is a blend of fruit and veggies and nothing else
https://impactyourfitness.thrivelife.com/ruvi
Sign up for Jennifer's newsletter
https://www.impactyourfitness.net/newsletter
Check out MovementPathways.com if you'd like to dive deep into your exercise and upgrade it from the inside-out