Fitness for Consumption with Dr. Lori Quinn ep. 6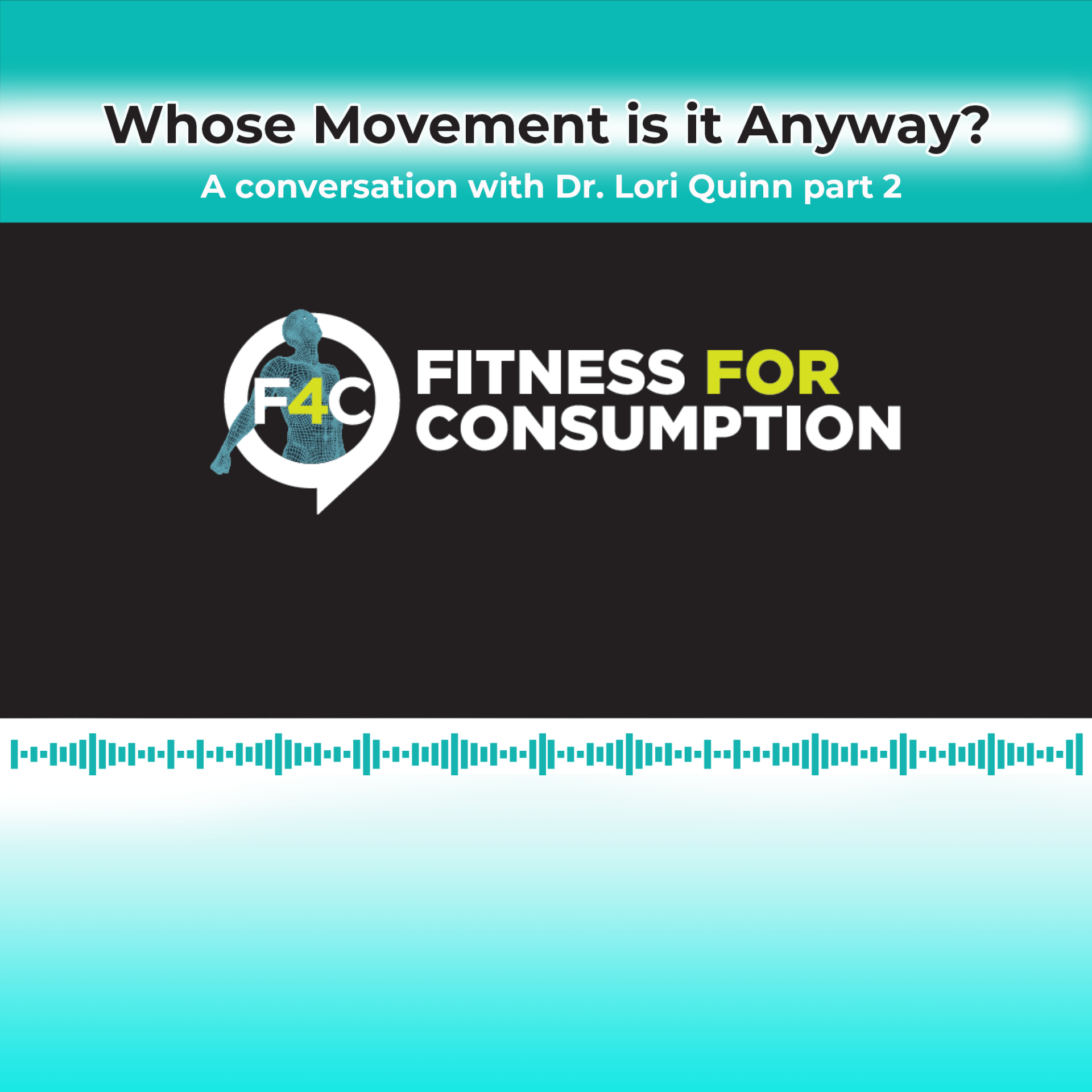 Whose Movement is it Anyway
part 2
The conversation with Dr. Lori Quinn continues, and the group gets right at the heart of the matter.  Do we actually need to apply corrective exercise techniques?  Who wants to be constantly corrected, after all?  Is what we're seeing error, or normal intra-individual variability?  And by the way, what's wrong with error?  Maybe it's really beneficial for self-actualization.  And in this episode, Dr. J and Dr. Quinn get into a friendly disagreement over essential coaching concepts.  Listen in to hear the argument and so much more!
In this episode, we discuss
Demonstrating vs instructing
Corrective exercise, is it useful in a fitness setting or should it be in the domain of a clinical setting?
The psycho-social implications of coaching
Glossary
Constrained Action Hypothesis - A theory proposed by Gabriele Wulf, Ph.D., in which an internal focus of attention constrains movements, while an externally applied focus results in more efficient and effective motion.
Corrective Exercise - A conceptual form of exercise designed to identify and correct incorrect or dysfunctional movement patterns through the application of prescribed exercises.
External cue - A cue that is given that directs a performer's attention to an external point or object in the surrounding space.
Internal cue - A cue that is given that directs a performer's attention to an internal anatomical process or sensation.
----
ADVERTISE WITH US: Reach dedicated exercise professionals, future trainers, and exercise enthusiasts all over the world. Send us an email to get the conversation started, schedule@impactyourfitness.net
SUBSCRIBE TO THE NEWSLETTER: Dive deeper with us. Sign up here. We offer a unique view on muscles, portals to new ways to respect the body and health.  Learning and 'enjoy the process' is a buzzy term.  We take learning seriously and want to take our listeners on that journey with us and through us
SUBSCRIBE: Subscribe to the podcast to make sure you never miss an episode.
episode.
You can find us on a variety of podcast apps:
WRITE A REVIEW: Leave us a rating and a written review on iTunes so more listeners can find us.
JOIN THE CONVERSATION: If you have a question or a topic you want us to address, send us an email here. You can also connect to us through Twitter, Facebook, and Instagram. Tag #thinkfitbefit with stories of how you are applying the concepts from our shows!
NEW TO THE SHOW? Don't be afraid to start with the trailer or our best of 2020 episode!
SUPPORT THE SHOW: by checking out LADDER SPORT, a line of high performance nutritional supplements created by Lebron James and his trainer.  They are high quality and NSF certified.  Use the code BEFIT10 for a special discount!
HOSTS AND GUESTS can be found at:
https://www.tc.columbia.edu/faculty/lq2165/
https://www.thinkfitbefitpodcast.com/hosts/