Dr. Adriaan Louw and Jen Uschold PT discuss the Certification in Lifestyle Medicine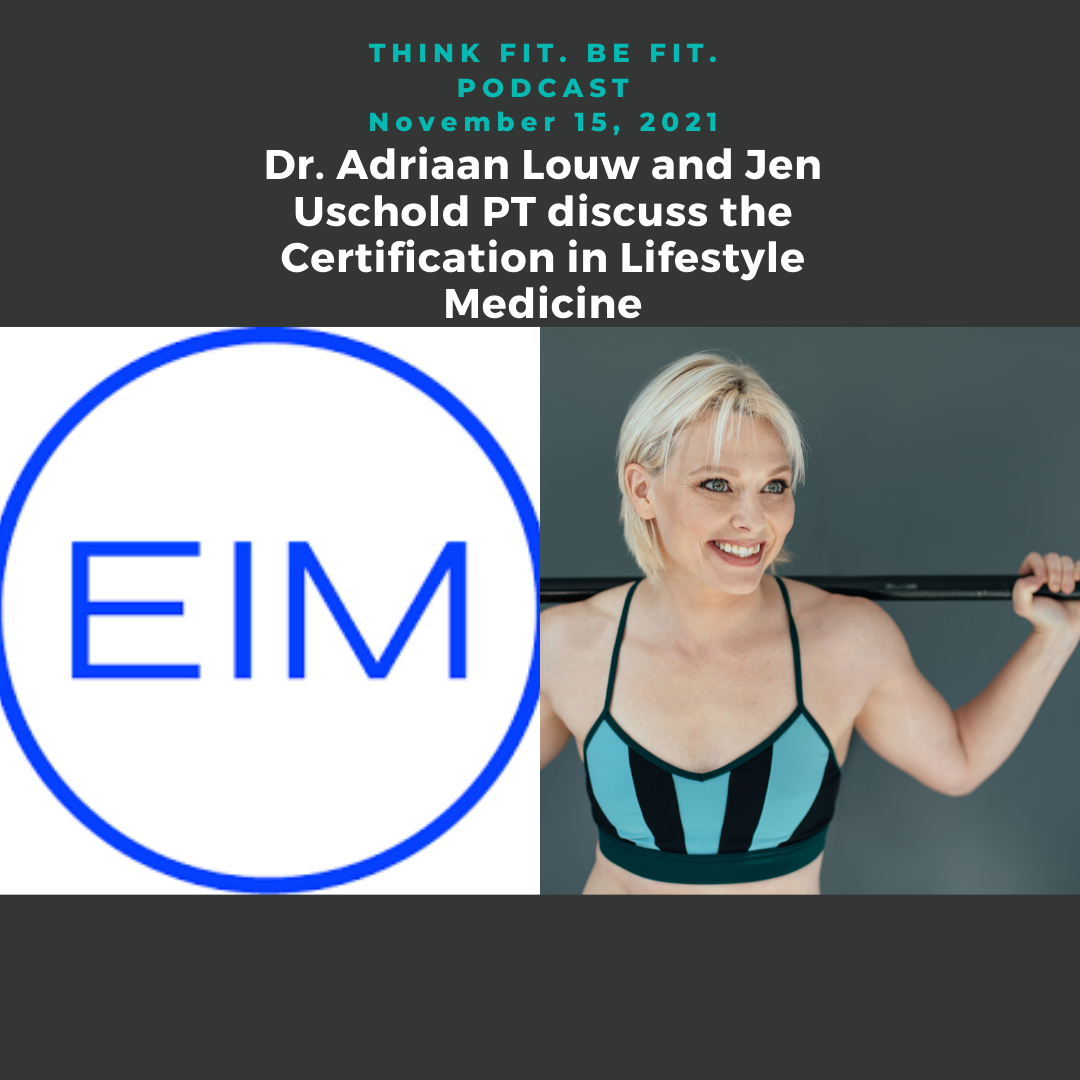 Exercise has an important role in our future health, but can modern medicine integrate exercise and lifestyle factors?  One of the answers to that question is in this episode.
This conversation moves from how we think about exercise to elevating healthcare and challenging the patterns of conventional medicine.
Two talented educators and physical therapists join Jennifer in discussing professional healthcare education that has the potential to change medicine for the better, worldwide.
Jennifer talks with Dr. Adriaan Louw and Jen Uschold of Evidence in Motion about one of their newest course offerings, Certification in Lifestyle Medicine. This certification brings exercise, wellness and behavior change to the forefront of patient and client care in various types of practices: physical therapy, occupational therapy, behavioral therapy, and other types of licensed health care providers.
Jenn is starstruck in this episode.  It features a leader in Pain Education and research.
Topics of discussion include:
Certification in Lifestyle Medicine
Investing in wellness and health as a whole
Downstream vs upstream in healthcare
Pain associated with chronic diseases
Interconnectedness of poor sleep quality and health seeking outcomes
Guest bios:
https://evidenceinmotion.com/people/adriaan-louw/
https://evidenceinmotion.com/people/jen-uschold/
ADVERTISE WITH US: Reach dedicated exercise professionals, future trainers, and exercise enthusiasts all over the world. Send us an email to get the conversation started, hello@thinkfitbefitpodcast.com
SUBSCRIBE TO THE NEWSLETTER: Dive deeper with us. Sign up here. We offer a unique view on muscles, portals to new ways to respect the body and health.  Learning and 'enjoy the process' is a buzzy term.  We take learning seriously and want to take our listeners on that journey with us and through us
SUBSCRIBE: Subscribe to the podcast to make sure you never miss an episode.
episode.
You can find us on a variety of podcast apps:
WRITE A REVIEW: Leave us a rating and a written review on iTunes so more listeners can find us.
JOIN THE CONVERSATION: If you have a question or a topic you want us to address, send us an email here. You can also connect to us through Twitter, Facebook, and Instagram. Tag #thinkfitbefit for a chance to be featured!
HOSTS AND GUESTS can be found at:
Jennifer Schwartz
Evidence in Motion: https://evidenceinmotion.com/
Jen's website for Physical Therapy care in Alexandria VA: https://180therapyandwellness.com/
Certification in Lifestyle Medicine: https://evidenceinmotion.com/program/certification-in-lifestyle-medicine/
Links of interest:
Previous episode featuring Jen Uschold
https://www.thinkfitbefitpodcast.com/the-updated-way-to-understand-pain/
Pain Reframed podcast:
https://evidenceinmotion.com/pain-reframed-podcast/
---