Sarina Jain of Masala Bhangra on Keeping Fitness Young and Fun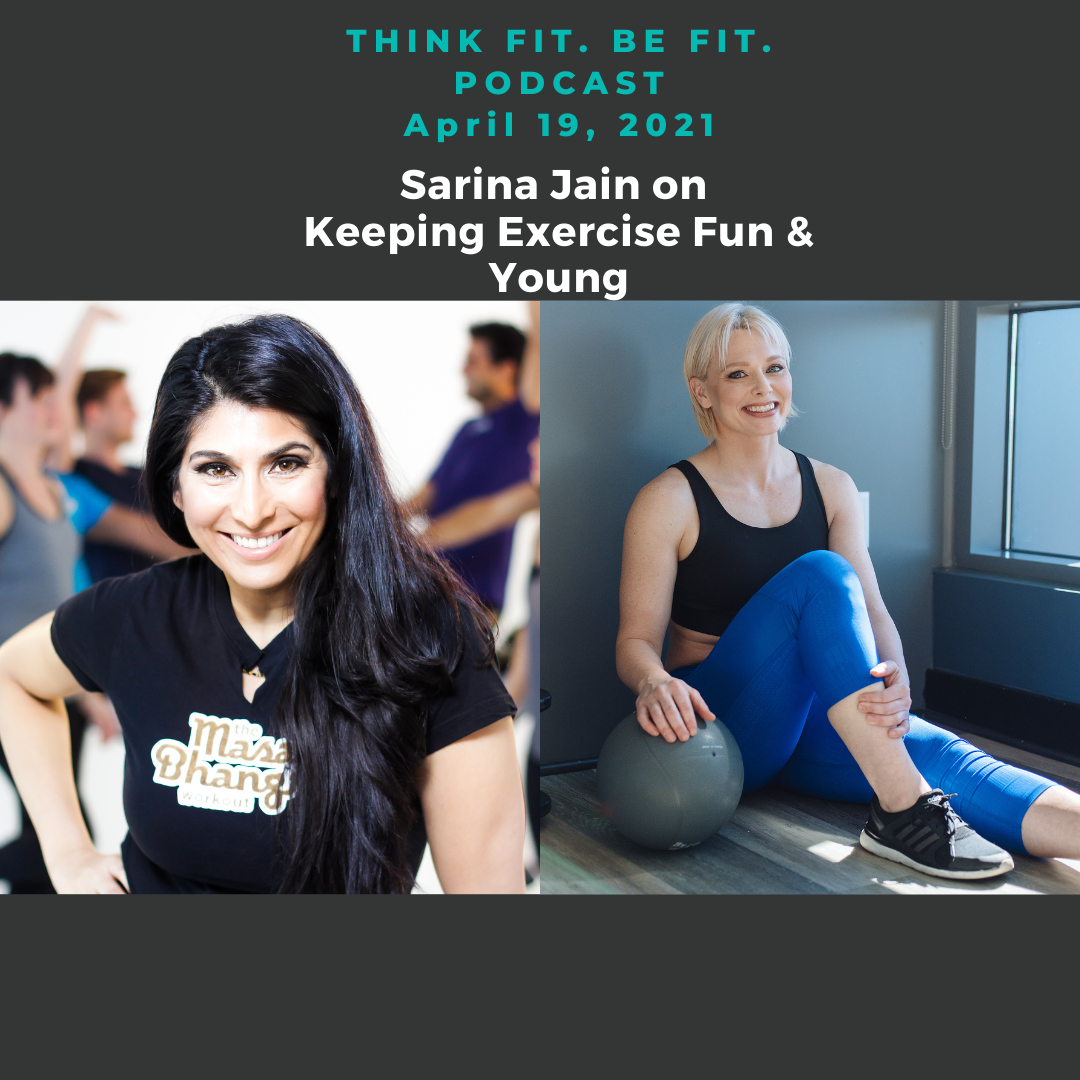 Moving out of our comfort zones and into an enriching fitness is beyond the metabolic benefits of exercise.  Today it's all about Balle Balle and a more feminine design of fitness!  Balle, Balle is a Punjabi term for happiness and our guest today says it a lot….
Jennifer and Sarina take this conversation to a deep level while discussing Sarina's ambition, diverse group fitness dance company, being a mom and being a cultural energizer.
Sarina Jain is America's first cross-cultural fitness star.  She is the creator of the Masala Bhangra Workout™. She is an energetic fitness innovator, music-video choreographer and international television/radio personality.  She wants us to get out of our comfort zone with dance fitness.
She's been in fitness for 25+ years and is called the Jane Fonda of India. She was also on Good Morning, America in 2016 and hosted a segment on Discovery Channel's All Star Workouts. Her workouts have also been featured in Elle Malaysia and Strait Times in Singapore.
Topics discussed:
dance fitness in the virtual space
business growth and transition
leadership as a cultural energizer
motherhood and fitness
longevity and youthful energy
emotional IQ in exercise
ADVERTISE WITH US: Reach dedicated exercise professionals, future trainers, and exercise enthusiasts all over the world. Send us an email to get the conversation started, hello@thinkfitbefitpodcast.com
SUBSCRIBE TO THE NEWSLETTER: Dive deeper with us. Sign up here. We offer a unique view on muscles, portals to new ways to respect the body and health.  Learning and 'enjoy the process' is a buzzy term.  We take learning seriously and want to take our listeners on that journey with us and through us
SUBSCRIBE: Subscribe to the podcast to make sure you never miss an episode. .
You can find us on a variety of podcast apps:
WRITE A REVIEW: Leave us a rating and a written review on iTunes so more listeners can find us.
JOIN THE CONVERSATION: If you have a question or a topic you want us to address, send us an email here. You can also connect to us through Twitter, Facebook, and Instagram. Tag #thinkfitbefit for a chance to be featured!
NEW TO THE SHOW? Don't be afraid to start with the trailer or one of our recap episodes
Recap Season 1 of Fitness for Consumption part 1
Recap Season 1 of Fitness for Consumption part 2
SUPPORT THE SHOW: by checking out LADDER SPORT, a line of high performance nutritional supplements created by Lebron James and his trainer.  They are high quality and NSF certified.  Use the code BEFIT10 for a special discount!
HOSTS AND GUESTS can be found at:
Jennifer Schwartz
Sarina Jain
Get the latest on Masala Bhangra
Links of interest:
http://pressroom.alvinailey.org/the-ailey-extension/faculty/sarina-jain
https://www.masalabhangraworkout.com/page/MeetSarina
https://abcnews.go.com/Health/bollywood-dance-workout-craze-takes-gma/story?id=3738605
Join Jenn on the upcoming course and webinar, Be Your Own Exercise Guru, register here