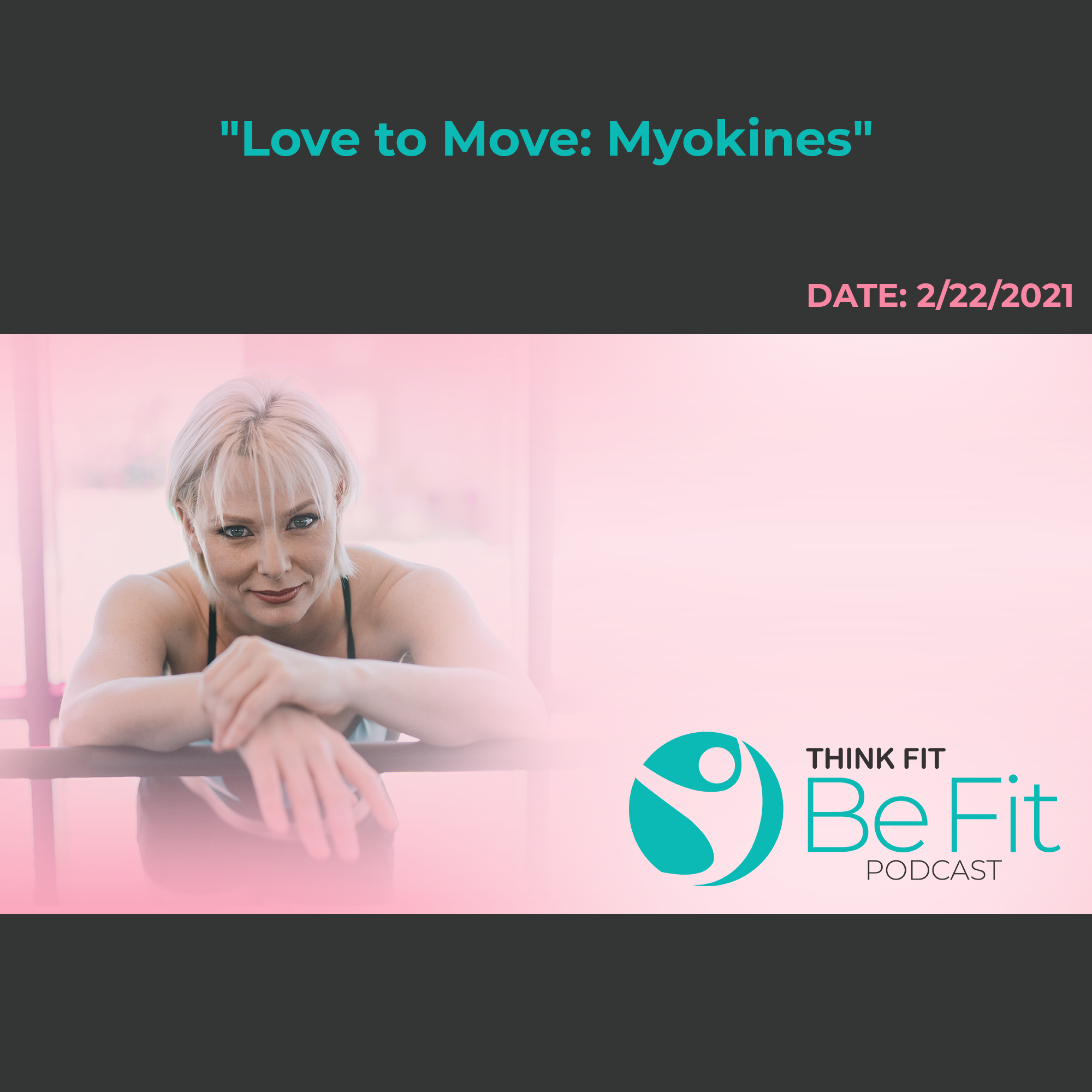 "A single bout of exercise alters 9,815 molecules in our blood"
New York Times PhysEd headline, June 2020
The new "Love to Move" episodes are dedicated to being more in love with exercise.  Today's episode on Myokines and all sorts of other chemicals is here to aspire the how and why of using this groundbreaking science to embody a love affair with exercise.  After all, exercising muscle does more than burn calories!  Exercising muscle is a symphony of interactions that can change the trajectory of your health.
You can choose to empower yourself to exercise. Burpeeing yourself to exhaustion will have more purpose. A win-win for your physical confidence and health!
Topics:
Through the lens of research that supports the muscular system's ability to have influence in immunity, longevity and disease prevention we can choose more fulfilling exercise and wellness routines.
Being intellectually stimulated by exercise
Highlight a pioneer in exercise physiology and neurobiology, Dr. Pederson, she is a real she-hero.
Molecular responses to exercise
Myokines
Goal setting and different perspectives on goal setting
Virtual studio announcements
ADVERTISE WITH US: Reach dedicated exercise professionals, future trainers, and exercise enthusiasts all over the world. Send us an email to get the conversation started, Hello@thinkfitbefitpodcast.com
SUBSCRIBE TO THE NEWSLETTER: Dive deeper with us. Sign up here. We offer a unique view on muscles, portals to new ways to respect the body and health.  Learning and 'enjoy the process' is a buzzy term.  We take learning seriously and want to take our listeners on that journey with us and through us
SUBSCRIBE: Subscribe to the podcast to make sure you never miss an episode.
episode.
You can find us on a variety of podcast apps:
WRITE A REVIEW: Leave us a rating and a written review on iTunes so more listeners can find us.
JOIN THE CONVERSATION: If you have a question or a topic you want us to address, send us an email here. You can also connect to us through Twitter, Facebook, and Instagram. Tag #thinkfitbefit with your expat story for a chance to be featured!
NEW TO THE SHOW? Don't be afraid to start with the trailer or our best of 2020 episode!
or the Recap of Fitness for Consumption
SUPPORT THE SHOW: by checking out LADDER SPORT, a line of high performance nutritional supplements created by Lebron James and his trainer.  They are high quality and NSF certified.  Use the code BEFIT10 or a special discount!
Learn more at our affiliates page
HOSTS AND GUESTS can be found at:
Jennifer Schwartz
Reference:
Contrepois, K., Wu, S., Moneghetti, K. J., Hornburg, D., Ahadi, S., Tsai, M. S., Metwally, A. A., Wei, E., Lee-McMullen, B., Quijada, J. V., Chen, S., Christle, J. W., Ellenberger, M., Balliu, B., Taylor, S., Durrant, M. G., Knowles, D. A., Choudhry, H., Ashland, M., Bahmani, A., … Snyder, M. P. (2020). Molecular Choreography of Acute Exercise. Cell, 181(5), 1112–1130.e16. https://doi.org/10.1016/j.cell.2020.04.043
Links of interest:
NYT article, "A single bout of exercise alters 9,815 molecules in our blood"
Webinar on upgrading your exercise, FREE with Jenn
Movement Pathways: 4 openings this enrollment