The Enhanced Home Fitness Solution with Ed Morand pt 2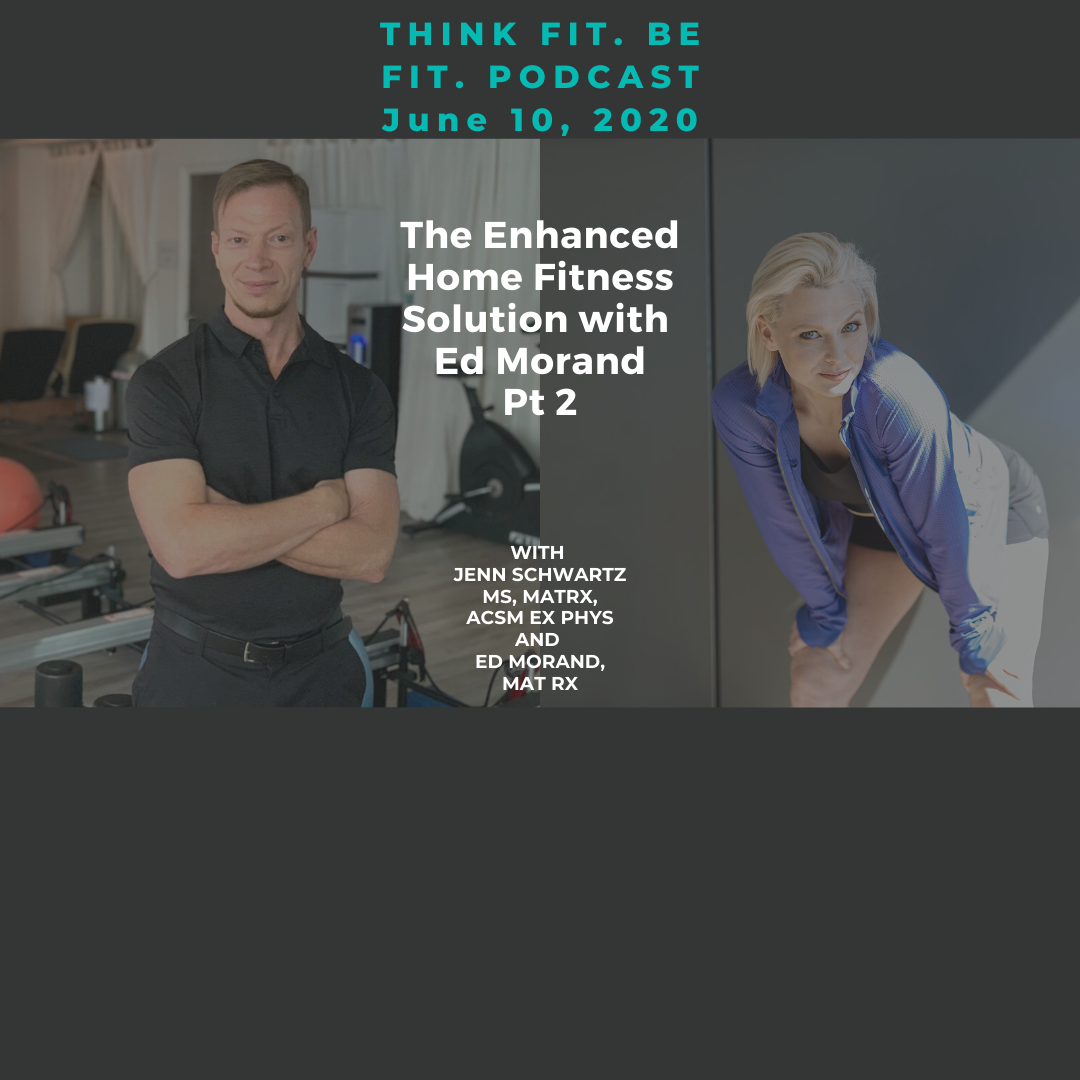 Lab of You ep 23
Being decisive and creative was a necessity during the recent global events that have changed the world.
This episode is all about building an effective home exercise experience by sharing exercise mechanics knowledge. This is an ongoing project for Think Fit. Be Fit. as we believe our community's exercise is about personal growth and getting stronger despite complicated circumstances.
Jenn and Ed have over 35 years of experience as exercise professionals and now rely mostly on bands and bodyweight exercises because they had to be physically distanced from their well equipped studios. This episode is here for you to learn their tricks!
The funny thing about body weight exercises and bands is that most of us used them out of convenience but without access to gyms we are now using bands and body weight exercises with unfortunate urgency and necessity.
Broadening your understanding of the technical parts of the bands is easy to do!  Just listen to our podcast, take notes, experiment with Strategic Variation™ and, as always, get in touch if you need more guidance.
Here's the breakdown of the discussion:
A real physical education includes not only understanding some of the biology and physiology but also the mechanics of exercise.
Tools for success are better than allegiance to an exercise
Technical aspect of bands and their range (plastic vs elastic)
Learn about the different ranges and ways to replicate your cable routine with bands.
Band placements and considerations for purchasing
Methods for broadening your choices
The importance of bone building with exercise
Strategic Variation™ considerations for bands
information on Ed's virtual HIT/Reformer class
Links of interest:
Part 1 of The Enhanced Home Fitness Solution https://www.thinkfitbefitpodcast.com/the-enhanced-home-fitness-solution-with-ed-morand/
Strategic Variation™ by Tom Purvis
https://www.exerciseprofessional.com/about/
Get in touch with Ed:
edmorand@icloud.com
https://www.beyondpilates.net/
https://www.facebook.com/BEYONDPILATESNYC/
https://www.instagram.com/ed_morand/
https://www.instagram.com/beyondpilatesnyc/
Get in touch with Jenn:
https://www.instagram.com/impact_your_fitness/
You can support the podcast by checking RUVI, a high performance drink that is just fruit and veggies and nothing else.  It really speaks for itself- no additives/sugar/gluten and all the fiber- your first order comes with a free shaker bottle.  Go to https://impactyourfitness.thrivelife.com/ruvi